A PPA from Encavis
makes ecological and economic sense

In the black with green energy? Renewable energy is fun!
What exactly is a PPA?
Power Purchase Agreements
PPA stands for 'Power Purchase Agreement'. Basically, a PPA is a long-term supply contract. As the renewables revolution progresses, the demand for green electricity is rising. However, generating green electricity is a complex business that requires intricate planning. A PPA establishes a long-term relationship between the seller and the buyer. The power plant operator (seller) and the electricity consumer (buyer) agree on terms and conditions for delivering an agreed amount of electricity for an agreed price over an extended term.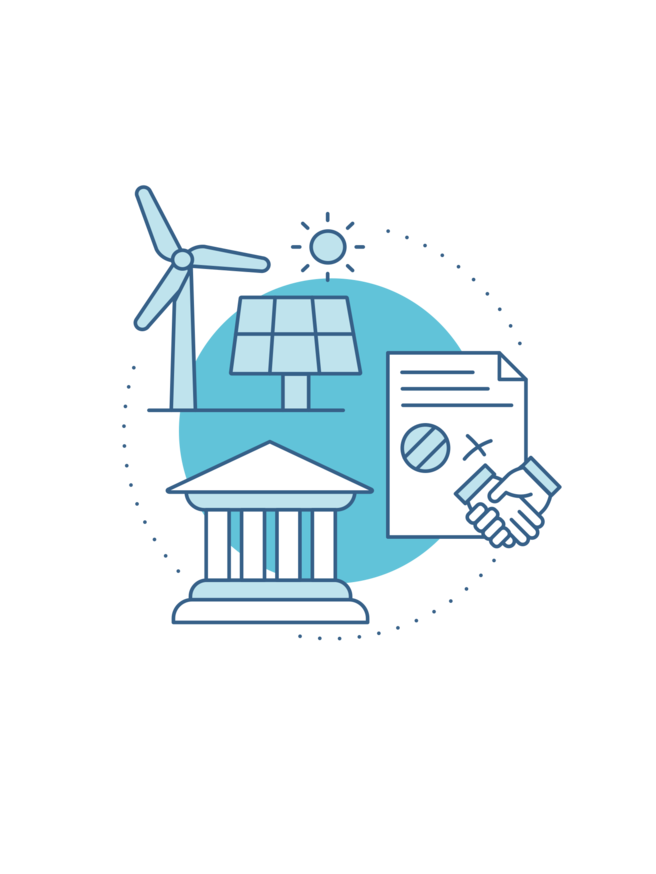 ENCAVIS PPA - FACTS AND FIGURES
Infrequently Asked Questions
At the end of the day, the two options are very similar. The primary difference is that electricity is not delivered physically in a virtual PPA. Instead, the customer receives certificates of origin, and each of the contract parties compensates the other financially for the difference between the current market value of the electricity and its value when the contract was signed. This is also known as a CFD ('contract for difference').
In essence, a virtual PPA can thus be regarded as price hedging.
Volume and price structures can be negotiated individually in both cases (PPA and VPPA) to optimise the benefits for both contract parties.
A virtual PPA is perfect for hedging prices long-term in cases where the price of the retail contract for physical delivery is tied to the market price. If a customer opts for a PPA without adjusting their fixed price contract for physical delivery, the price hedging effect is limited.
In some cases, the PPA will exactly match the size of the project and your electricity consumption profile. However, in the case of a large project, the volume of electricity sold by a PPA may not cover all your annual electricity requirements. Thankfully, PPAs can be designed very flexibly in such cases, whereby the end result will depend on the customer's needs and how much risk they are willing to take.
Yes. A PPA will include a period of grace in case the start date is delayed. If the seller is responsible for the delay, the buyer will receive compensation for the delay. If operations fail to begin once the period of grace expires, the buyer is entitled to withdraw from the contract.
Get in Touch
Do you have any questions?
No matter where you are on your journey to green power, we're here to help.